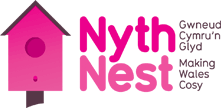 Nest helps to make people's homes warmer and more fuel efficient, which also improves many other aspects of their lives.
The scheme offers householders a range of free, impartial advice and support to help them reduce their energy bills and, for those who are eligible, a package of free home energy efficiency improvements, such as a new boiler, central heating or insulation.https://www.nestwales.org.uk/home
Nest is a Welsh Government funded programme managed by British Gas. Energy Saving Trust is a material subcontractor of British Gas.
British Gas
British Gas is a British-owned company. As part of the Centrica Group, they provide gas, electricity and home repair services to millions of customers in Scotland, Wales and England.
Energy Saving Trust
The Energy Saving Trust is the UK's leading impartial organisation helping people save energy and reduce carbon emissions. They do this by providing expert insight and knowledge about energy saving, supporting people to take action, helping local authorities and communities to save energy and providing quality assurance for goods, services and installers.